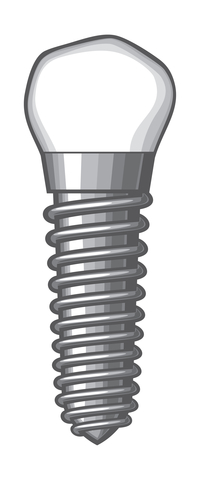 Here at Aesthetic Family Dentistry, we regard mini dental implants as an excellent treatment for the comfortable, long-term fixing of lower dentures. The procedure is fast, straightforward and can have an amazingly beneficial effect. All great reasons to consider the procedure!
As with any dental treatment, there are many myths surrounding them. Some are blatantly not true and some are simply mistaken. All are incorrect. With that in mind, we have put together this post to dispel some of the most common myths surrounding mini dental implants.
If I can't have standard implants, I can't have mini dental implants – Not true. While some patients cannot have either procedure, many who cannot have dental implants for one reason or another can benefit from mini dental implants. For example, those with insufficient bone or bone density to be able to take a standard implant may still be able to have a mini implant.
The procedure is painful and take a long time to recover – Not true. The standard procedure for installing mini dental implants is actually very straightforward and can be done with only a mild anesthetic. Discomfort is minimal and recovery time is also relatively short. Much depends on you of course, but the procedure isn't as complicated or as scary as you might think.
Often a mini dental implant procedure can be performed within a single, one hour visit to our dentist's office. Recovery time is subjective of course, but any discomfort should disappear within 48 hours and you could be eating normally within a couple of hours.
Dentures are old fashioned and no longer relevant – Nothing could be further from the truth. Dentures have moved along with all dental technology to embrace new materials, methods and procedures. Modern dentures are a world apart from those of our grandparents and are still a very relevant treatment.
Mini dental implants make wearing lower dentures easier and more comfortable than ever with few of the downsides that dentures used to entail.
Mini dental implants are short-term solutions – Not true. When installed by experts, mini dental implants can be a very long-term solution. As long as the implants and the dentures are cared for according to our instructions, there is no reason why they wouldn't offer many years of faithful and flawless service.
Of the few long term complications that arise from mini dental implants, most are caused by poor quality procedures or less than ideal aftercare. Let Aesthetic Family Dentistry look after you and you will have nothing but good things to say about the procedure!
If you live in Denville, Dover, Morristown, Morris Plains, Mountain Lakes, Randolph, Rockaway contact Aesthetic Family Dentistry today to schedule a consultation. We're here to help!
– See more at: https://www.aestheticfamilydentistry.com/blog/common-myths-surrounding-mini-dental-implants/#sthash.XN1WqEKR.dpuf