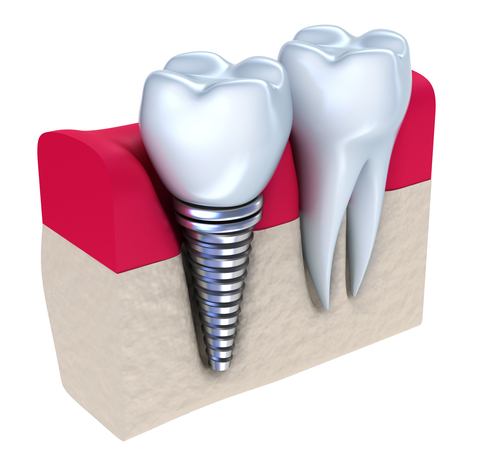 Mini dental implants are an effective long-term treatment for a range of dental issues and has proven themselves very reliable. They are one of many procedures available to help patients regain their beautiful smile and one we recommend wherever suitable.
Between us, the dentists here at Aesthetic Family Dentistry have hundreds of successful dental implant procedures under our belt so you're in safe hands!
What are mini dental implants?
Mini dental implants consist of a miniature titanium implant that acts as an anchor for a denture. The implant looks similar to a toothpick and is inserted into the jaw with the top sticking out. That top has a ball joint on which is designed to allow a denture to fasten on it.
The denture will have a tiny rubber o-ring which seals on top of the implant to hold it comfortably in place. It's an elegant solution that means the dentures are held securely without the discomfort traditionally associated with non implant secured dentures.
Are mini dental implants safe?
Yes of course! We wouldn't use them if they weren't. Mini dental implants have had FDA approval for many years and we have used them for almost as long without issue. As long as they are fitted by expert dentists there should be no safety concern with using mini dental implants.
What are the main benefits of mini dental implants?
Dentures have been a dental procedure for hundreds of years but have always failed to adequately address the issue of comfort. Mini dental implants change all that. By acting as a secure anchor for lower dentures, the implants ensure that comfort is maintained.
Mini dental implants also have the added benefit of reducing bone loss around missing teeth. Bone loss is a well-known side effect of having teeth removed and can compromise the strength of the jaw and the security of surrounding teeth. Having mini dental implants installed can alleviate much of that.
Why use mini dental implants?
Fitted properly, mini dental implants offer a safe, secure base for lower dentures. They provide a solid foundation, security and comfort for dentures and overcome many of the downsides of being a denture wearer. You can eat more foods, be less conscious about wearing dentures and enjoy life as you once did.
Mini dental implants benefit patients both physical and psychologically and that's why we recommend them to suitable candidates.
If you're a denture wearer and would like to know more about mini dental implants, and you live in Denville, Dover, Morristown, Morris Plains, Mountain Lakes, Randolph, Rockaway schedule a consultation with Aesthetic Family Dentistry. We have many years' experience of working with mini dental implants and are perfectly placed to help. Contact us today!
– See more at: https://www.aestheticfamilydentistry.com/blog/everything-you-need-to-know-about-mini-dental-implants/#sthash.at1Wspeq.dpuf