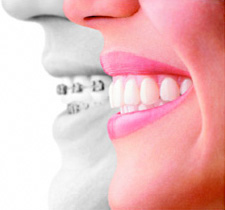 Dental veneers are one of the many dental procedures we undertake at Aesthetic Family Dentistry. They are also one of the most popular. Very few dental procedures are as simple and non-invasive, yet has such a profound effect on your smile. That's why we promote them as a treatment wherever appropriate.
What Are Dental Veneers?
Dental veneers are a recent solution to poor teeth. They are thin porcelain laminates that are bonded onto the surface of the exiting tooth to act as an attractive shell. They can work individually or as part of a set and can revolutionize the way you smile.
Veneers on teeth are nothing new, but this procedure is and is proving to be as effective as it is popular.
How Are Dental Veneers Fitted?
We covered this in a previous post, but briefly, we produce a putty image of the tooth and have the dental veneers made. We then clean the teeth, smooth a piece of the affected tooth and cement the veneer onto the tooth. That's all there is to it.
The procedure is usually undertaken over two visits. The first to assess if you're able to benefit from dental veneers and to take molds if you are and the second session to fit them. The process is painless and involved little work, except using a burr to skim a piece of tooth enamel to offer a key for the dental cement.
What are Dental Veneers Used For?
Dental veneers are appropriate for a range of treatments. The ease of the procedure and the flexibility of the veneers themselves make them ideal for many conditions. They include:
Stained teeth – If teeth are stained beyond treatment, dental veneers can be vastly improved by this procedure. If teeth whitening cannot help, veneers on teeth can.
Damaged teeth – Teeth that have been chipped, broken, worn or damaged can also benefit from a dental veneer. Once the damage has been mitigated, teeth veneers can bring back that bright smile once more.
Gapped teeth – Teeth with gaps are viewed as attractive by many but often disliked by those with them. Dental veneers can fill those gaps quickly and easily by slightly widening the footprint of the tooth.
Crooked teeth – Dental veneers can be used to treat crooked teeth if Invisalign or other orthodontic treatment isn't suitable. Careful placement of the veneers on teeth can provide a straight, beautiful smile that can last a lifetime.
Pathological Bite  – Dental veneers can be used to permanently stabilize a pathologica bite that has been corrected by way of neuromuscular techniques.
If you would like to know more about dental veneers, contact Aesthetic Family Dentistry today!