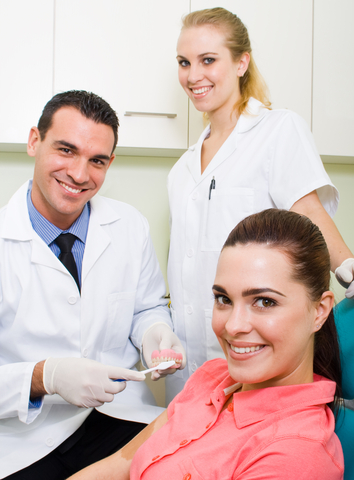 To all our Valued Patients, 
As you are probably aware, there is widespread news coverage involving the investigation of an Oklahoma oral surgeon for allegedly poor infection control practices and delegation of dental procedures.  The ADA is monitoring this developing story closely.
We would like to reassure you that your health and wellbeing is our utmost concern.  We follow and exceed stringent infection control procedures.  We only delegate procedures to our staff that they are licensed and qualified to perform per state regulations.  The Centers for Disease Control and Prevention has developed special recommendations for use in Dental offices.  Let me describe just a few of the things we do in our practice in terms of infection control:
• All dental staff involved in patient care scrub their hands before each and every patient and use appropriate protective garb such as gloves, masks, gowns and eyewear
• A new set of gloves and masks are used for each patient.
•  Before you enter the examining room, all surfaces, such as the dental chair, instrument tray, dental light, drawer handles and countertops, have been cleaned and decontaminated and/or covered with a barrier.
• Non-disposable dental instruments are cleaned and sterilized between patients. In our office we sterilize instruments using an Autoclave that is tested each time it is used, to make sure we achieve proper sterilization
• Disposable, (one time use) items like needles, suction tips or gauze are used whenever possible and are placed in special bags or containers for special, monitored disposal.
• Your  well-being is important to us and our staff, which is why we follow stringent infection control procedures and comply with all state regulations for the protection of patients.
• You can visit the American Dental Association's website at www.mouthhealthy.org and use the search term "infection control" to see a video on this topic. The website has a lot of information to help you take care of your oral health, too.
If you have any further questions, please don't hesitate to ask.
Warm Regards from Drs. Steiner, Fine, Kwiatkowski and Staff