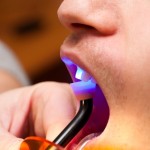 We have spoken before about the many advantages of laser dentistry and why we like it. We have also spoken about how flexible a dentist's laser is as a tool. Today we're going to talk a little more about the kind of procedures we can perform with this tool.
Laser dentistry allows us to perform a wide range of procedures across all levels of complexity. The sheer power and flexibility of a laser allows us to use it in a variety of ways.
Such as:
Laser dentistry for teeth
Used at a suitably low power, a dental laser can find cavities that might otherwise be difficult to spot. A soft tissue laser can detect the byproducts of tooth decay, giving us a good idea of where to look. It's a useful way of finding cavities.
Hard tissue lasers can be used to prepare a tooth for a filling too. It can kill bacteria and prepare the site of the filling quickly and easily. Sometimes negating the need for local anesthetic.
Finally, we can seal sensitive areas on the root of a tooth to address sensitive teeth. This is a useful procedure if you're having trouble with hot and cold sensitivity.
Laser dentistry for gums
A soft tissue dental laser can reshape gum tissue in preparation for restorations. This procedure exposes the healthy tooth structure and is known as crown lengthening. Hard lasers can do the same for the jaw too.
Children with a restricted or tight frenulum (muscle attachments in the mouth) can be treated with a soft tissue laser. The condition is known as "tongue-tied" and refers to limited tongue movement. We can use a laser frenectomy procedure to alleviate this problem and sometimes even address speech impediments.
Laser dentistry for other procedures
Dental lasers also have other useful applications including; viewing teeth and gums in real time, removing benign tumors from gums, palate, lips and insides of the cheek. We can also use a laser to treat cold sores, whiten teeth, regenerate nerves, and trim tissue related to sleep apnea.
Most importantly, we can also use laser dentistry techniques to address TMJ, or Temporomandibular Joint Disorder. It can quickly and painlessly reduce inflammation around the joint of the jaw to alleviate some of the symptoms associated with TMJ.
As you can see, there is a lot a dental laser can achieve in the right hands. As trained, experienced laser dentists, we at Aesthetic Family Dentistry are more than capable of using this tool for your benefit. Contact us today if you would like to know more!