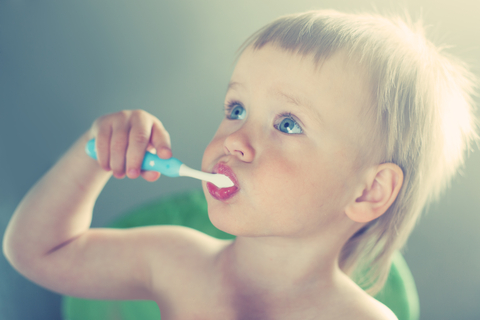 Your 
child's first visit to the dentist
 is one of many landmark occasions in their young life. Along with first inoculations a first dental appointment is a straightforward check of your child's progress and an opportunity for you to ask us questions and gather the information you need to make informed decisions.
When to make that first dental appointment
According to the American Academy of Pediatric Dentistry, it should be "first dental visit by the child's first birthday." While this may surprise many parents, it is a time when decisions that are made then can influence the child for the rest of their lives.
Why make it so early?
Studies from The American Academy of Pediatrics suggest that by age one, the risk of cavities begin to appear. While the teeth may be expelled in favor of adult teeth later in life, the other healthy implications of poor oral hygiene can begin manifesting from a very early age.
It is estimated that 1 in 4 children under the age of 4 has at least one cavity in their teeth.
While we make no judgment of parenting, any bad habits parents may have can easily be passed onto their children. Providing the information you need to make good decisions as early as possible benefits everyone involved.
What to expect at this first appointment
Your child's first dental appointment is an informal one. We will of course check your child's mouth and examine their oral health. However it's an easy, gentle appointment to get your child used to visiting the dentist surgery.
This first visit is mainly about information gathering. We provide the information you need to help your child get the best start in life. You can ask us questions about brushing teeth, diet, advice on thumb sucking, how to handle teething, teaching your child to brush and anything else you would like to know.
As holistic dentists, we like to provide as much information and proactive advice as we can. We work with you to provide the framework necessary to give your child the very best start in life and can help with all manner of health-related situations.
We are also trained, experienced  dentists that enjoy working with pediatric patients, so your child is always in safe hands!
Contact Aesthetic Family Dentistry today to schedule your child's first dental appointment!